Cards.
Elijah Dukes, Mark Grudzielanek, Hanley Ramirez.

Brandon McCarthy, Mark Loretta, Pablo Ozuna.

Aaron Cook and Jim Thome.

San Francisco Seals outfielder Joe DiMaggio.

Minnesota Twins team leaders, and Series Two checklist 1 of 3.

Thirty-two years and a little under six miles separated my first pack of Topps and Max's. I was six or seven years old when our regular Saturday morning drive to Schepps convenience store with Dad transitioned from Fudgsicles to baseball cards, but I figured today that Max, almost three and a half, was ready to get his collection started.

Of course, what that really means is that I was ready to get Max's collection started, but if he ends up digging the stuff the way I did as a kid, he'll be glad one day that it got underway sooner rather than later.

As we walked out of Nick's Sports Cards on Campbell and Coit this morning with that pack of 2007 Topps, Hobby Edition, Series 2, and ripped the foil open, I'll have to admit that I wasn't crazy about the fact that Dukes was the player to launch Max's baseball card collection.

And Max, plainly unimpressed with the Ramirez rookie card or the throwback DiMaggio, wasn't crazy about the fact that, insultingly, Michael Young was nowhere to be found in the pack of 11 cards. I may have slip a Young card into next week's pack, just to make sure he doesn't give up the hobby before age four.

When I say Max wasn't crazy about his Young-less pack of cards, I'm sort of minimizing his reaction. We weren't even out of the Nick's parking lot when Max decided to do his best Len Barker, rearing back and firing them in a general direction. Velocity was the objective, with a complete disregard for location.

I stopped the car, and turned around. Before I could say anything, Max already had that look on his face, fully anticipating that he was about to be divested of the afternoon ice cream shop visit I'd promised or, worse, the appointment we had later in the day at the indoor batting cages.

It probably wasn't textbook parenting for me to crack a smile at that point, but I was suddenly sledgehammered with a memory of standing in my backyard as I reinventoried that first 1976 Topps pack, once again finding only one Texas Ranger in it - third baseman Roy Howell - and disgustingly throwing the remaining cards to the wind, without a care for where that Dave Giusti and that Jack Brohamer and, yes, that George Brett landed.

(I'm almost positive Brett was involved in that incident. Giusti and Brohamer, can't swear to it. [Though they should have been.] If only my Dad had been a baseball blogger back then.)

I didn't congratulate Max for his up and in, low and outside, down-the-middle, worm-killing, exploding backseat fastball. But it wouldn't have been fair to punish him, either, for being as Rangers-centric as his father was 32 years earlier, about six miles away.

Another thing. It's been nearly 20 years since I've bought any baseball cards, but Topps is clearly kicked its airbrushing up to a new, less hilarious level.
| | | |
| --- | --- | --- |
| 1977 Topps: | 1978 Topps: | 2007 Topps: |
| | | |
Not a bad job on the McCarthy reimaging. Pretty sure Topps went to press before the newly acquired McCarthy had the chance to throw even a spring training pitch for Texas in 2007, but even if not, uniform number guru Joe Siegler doesn't think he ever wore the number 55 that he sported with Chicago.
That card, for Max, will always be his 1976 Topps Roy Howell.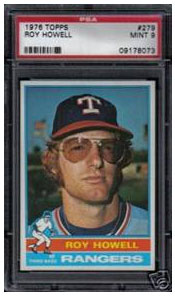 When we pulled back into the garage at home, Max and I picked the cards up from the floorboard and the back seat and the front seat and the CD changer and an A/C vent or two. I'll hang onto them for a while until a few more Saturdays have passed, when that stack of 11 will be 33 or 44 and look more substantial, interesting enough that Max will probably want them back so he can stage his own baseball game on the playroom floor.
When he gets older, those cards and the ones that follow will help him learn math and how to read, reinforce his drive to become a shortstop and give him an idea or two at the plate, feed a bit of an entrepreneurial spirit, and fill his head with a treasure chest of useless facts and spindly trivia that, if preserved and nurtured, will do him absolutely no good unless he decides years from now to blog about baseball.
For now, the meaning of today's father-son time is probably lost in its entirety on Max, aside from the fact that he got that strawberry with sprinkles at Baskin-Robbins early in the afternoon, sitting across from Dad and Uncle Marv while everyone else in town made the sensible decision not to go for ice cream on a fairly dreary, cloudy, 40-something degree day.
I did, incidentally, tell Max as I put away a cup of Heath Bar Crunch that I'd appreciate it if he didn't throw the cards the next time. He gets the one mulligan I once gave myself.
===========================================================
To join the free Newberg Report mailing list so you can get e-mail deliveries of every edition of the newsletter, daily minor league game recaps, and frequent Newberg Report News Flashes, go to www.newbergreport.com and click the "Mailing List" link on the top menu bar.
(c) Jamey Newberg
http://www.newbergreport.com
If you want to be removed from this list, please e-mail me at newbergreport@sbcglobal.net